Kamaljit Singh Dhaliwal jailed for killing postman David Lamont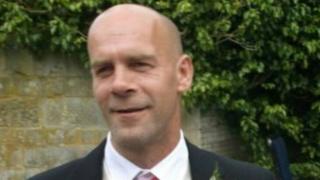 A man has been jailed for killing a "popular" postman whose body was found in a ditch.
The body of David Charles Lamont was found by a member of the public by the side of Burrow Hill Lane, in Corley, Warwickshire, on 23 October.
Kamaljit Singh Dhaliwal, 54, of Holland Road, Coventry, was found not guilty of murder but guilty of manslaughter.
He previously admitted causing death by careless driving and was banned from driving for 13-and-a-half years.
In total, he was jailed at Warwick Crown Court for nine-and-a-half years for the first charge and five-and-a-half years for the second with the sentences to run concurrently.
See more stories from across Coventry and Warwickshire here
The family of 50-year-old Mr Lamont, a divorced father-of-three, described him as a "father, grandfather, brother, postman, performer", following his death.
A police inquiry established that Mr Lamont, an amateur theatre performer, was friends with Dhaliwal and had been to a club with him in the hours before his death.
Prosecutor Benjamin Aina said Mr Lamont, a volunteer actor with Coventry-based Ego Performance company, suffered chest injuries consistent with lying prone in the road and a car driving over him.
'A tragedy'
Det Insp Anna Middleton, from Warwickshire Police, said: "Dhaliwal did not intend to kill David but he deliberately hit him with his car causing him fatal injuries.
"He has never taken responsibility for his deliberate actions and never shown any remorse.
"From the moment he committed this crime he has done everything he can to cover his tracks but today justice has caught up with him.
"David was a very popular individual, liked, loved and respected by his family, friends and colleagues. He had a lot to live for and it is a tragedy his life was cut short in this way."
She added that "unfortunately" they "may never know why Dhaliwal did what he did."