Murdered Daniel Kirkwood's family call for nightclub to be knocked down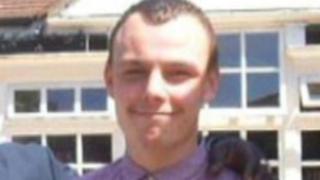 The family of a murdered Coventry teenager have launched a campaign to get the nightclub where he died knocked down.
Daniel Kirkwood, 18, was stabbed at the Society nightclub on Tower Street in March 2015. His killer Tobijah Thompson, 25, was jailed for 32 years.
The club had its licence revoked but Daniel's sister Sophie said the building was a "constant reminder".
Coventry City Council said it did not know who owned it.
'Shiver down your spine'
The family have started an online petition to have the building knocked down, which has received nearly 1,000 signatures.
Sophie said: "Daniel was my best friend and I want to see the club demolished so it doesn't affect me and my family any more.
"It's a constant reminder and [its demolition] would give us some sort of closure."
Daniel's mother Pauline Darcy said there had been "no interest" in the building since its licence was withdrawn.
The nightclub's owner, Gurdeep Bassi, did not attend the 2015 hearing, where West Midlands Police said they could not rule out the possibility the premises was linked to organised criminality in the city.
"It was stripped as a nightclub because there was incident after incident," she said.
"It was horrendous. The licensing committee said, 'Why has it taken Daniel's death for this to come to our attention?'
"It sends a shiver down your spine when you see that place. I can't bear to look at it."
Coventry City Council said: "We do not know who owns the building and are unable to comment further."