Coventry's £1m millennium project Priory Centre to reopen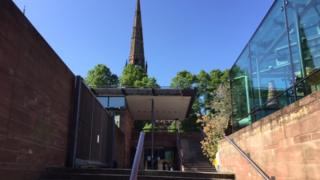 A £1m visitor centre in Coventry is set to reopen after being closed due to council cuts.
The Priory visitor centre, which formed part of the city's £24m Millennium development, was closed in February 2016 after its grant was withdrawn by the city council.
A social enterprise group has now taken over the centre and plans to reopen it to the public on Saturday.
Its founding director Carole Donnelly described the building as, "stunning".
"It's superb to see the community group coming together to reopen it," she said.
"It's a stunning modern building housing artefacts from the original Coventry Cathedral.
"We have set it up not only as a visitor centre but also as a sustainable business. The upstairs space is an events and conference facility and we are also seeking sponsorship."
---
The city with three cathedrals
Coventry takes pride in the fact it is the only city in the country with three cathedrals - the historical site of St Mary's, uncovered in 1999 by Channel 4's Time Team, St Michael's - which was famously bombed in 1940 - and its modern cathedral designed by Sir Basil Spence
The site of St Mary's dates back to Anglo Saxon times, when it is said to have been founded by Lady Godiva
It was rebuilt in the 12th Century as a cathedral and priory following the Norman conquest
However, it was the only cathedral to be demolished by Henry VIII, following the dissolution of the monasteries
---
The centre, which was designed to showcase the remains of the city's original 12th Century cathedral and priory, will reopen for three days a week, staffed initially by volunteers.
The Channel 4 programme Time Team excavated the site in 1999 and the fragments found, including a 14th Century tiled floor, form part of the centre's exhibits.
George Demidowicz, the council's former head of conservation, was part of the team that oversaw the opening of the visitor centre in 2001.
"It was tragic when the centre closed after just over a decade - especially when it was public money that helped open it," he said.
"I'm delighted people have got together to open it again."