Jobs lost at Coventry car parts supplier CovPress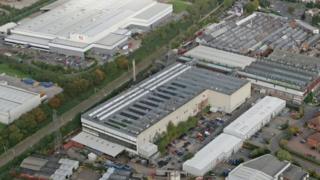 Administrators say 85 jobs will go at a Coventry car parts supplier as a buyer for the whole of the business could not be found.
Deloitte was appointed to secure the future of CovPress Assembly Limited in April.
It came after the firm, which employs about 350 people, had "not generated the anticipated profitability".
Deloitte said on Tuesday it would "continue to seek interest in the remaining business".
See more stories from across Coventry and Warwickshire here
In a statement, Deloitte said: "Unfortunately, despite a wide marketing process including contacting over 30 potential buyers, no parties remain interested in progressing a going concern sale for the whole business.
"Whilst the administrators will continue to seek interest in the remaining business, due to the resourcing of some customer work it is currently anticipated that there will be 85 permanent employee redundancies, 30 of which are likely to be voluntary."
Wider scale
Louise Bennett, chief executive of the Coventry and Warwickshire Chamber of Commerce, said it was hoped the continued search for a buyer for the remainder of the business proved "fruitful" and no further jobs were lost.
She added: "It's sad to see jobs going and behind the stats there are individuals facing an uncertain future.
"From an economic point of view, we have relatively low unemployment in the city so we are confident that this will not impact on a wider scale."
Associated company CovPress Limited was recently bought by Liberty House, securing 740 workers' jobs at a plant in Canley.