Hogwood Farm: Probe as pigs filmed in 'bleak' conditions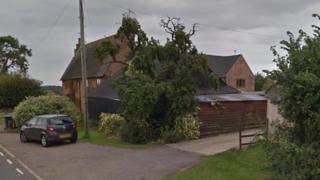 An investigation is under way after an animal rights group released footage it said showed pigs in overcrowded conditions at a farm.
Images filmed at Hogwood Farm in Warwickshire by Viva allegedly showed pigs in cramped sheds, while some sick animals had no access to food or water.
The Animal and Plant Health Agency said it will investigate the footage.
A farm spokesman said it would review procedures, but insisted it complied with all animal welfare standards.
'Bleak environment'
Viva, which filmed the animals on 1 and 2 June, said it was "some of the worst conditions" it had seen.
The group claimed it filmed dozens of dead pigs including one corpse that was being eaten by the other animals.
"Cannibalism is not natural behaviour for pigs and is caused by this bleak environment," the group added.
Pigs filmed in 'bleak' conditions
Speaking to BBC Coventry and Warwickshire, a representative from the farm in Oxhill said: "What we've got here is a well established business that is audited on a regular basis that complies with all animal welfare standards.
"We've got references here from the veterinary surgeon who's been coming here for over 10 years. She was here two weeks previously before the incursion by Viva."
They added: "We are currently reviewing our practices particularly in and around access to what is a livestock controlled environment."
An Animal and Plant Health Agency (APHA) spokesperson said: "APHA takes potential breaches of animal welfare legislation very seriously and investigates all allegations.
"Where welfare regulations are breached, appropriate action is taken."
The RSPCA said it was "concerned about the welfare of some of the pigs in the footage provided".
"Sadly, in general, the conditions seen in the footage appear to be compliant with legal requirements, which highlights the inadequacy of the law to protect the welfare of pigs."