Rapist posing as police officer jailed for eight years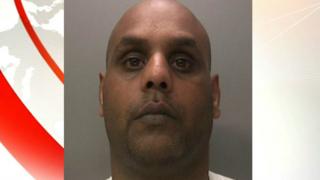 A man who raped and blackmailed a woman whilst posing as a police officer has been jailed for eight years and one month.
Randeep Tamne met his victim through a dating website and "took advantage of her sexually, emotionally and financially," police said.
Tamne admitted two charges of rape, one of blackmail and one of impersonating a police officer at Warwick Crown Court.
The 43-year-old has also been placed on the sex offenders register for life.
See more stories from Coventry and Warwickshire here
Tamne, from Wyken, Coventry, arranged to meet his 27-year-old victim at his home on 30 July 2016.
'Sex as payment'
When he didn't look like the person she'd been talking to online, his victim left but returned to the house when Tamne called her posing as a police officer and threatening arrest if she did not return, West Midlands Police said.
The victim returned and was told she would need to pay a fine. When Tamne told her the money she took from the bank wasn't sufficient, he suggested sex as payment and raped her, the force added.
After the assault the victim was made to drive to a cashpoint to withdraw more money.
She later told her mother what had happened and Tamne was reported to police.
Det Con John Cleverley said: "The defendant was an online predator who sought out a vulnerable female on a dating site and took full advantage of her sexually, emotionally and financially after initially pretending to be a different identity."
Tamne denied the charges but pleaded guilty on Tuesday.