Sophia McDonald death: Coventry crash was accident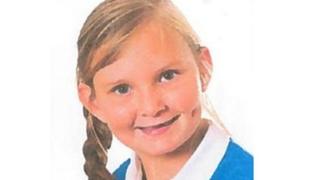 The death of a seven-year-old girl hit by a skip lorry in Coventry was an accident, an inquest found.
Sophia McDonald was crossing Henley Road, in Bell Green, in October when she was hit by the slow-moving vehicle.
The hearing at Coventry Magistrates' Court found Sophia, from Bell Green, died from a head injury.
Coroner Sean McGovern concluded "Sophia died as a result of a road traffic collision" and "no medical attention" could have changed the outcome.
More updates on this and other stories in Coventry
The inquest heard Sophia was holding her mother's hand as they crossed the road in front of a queue of traffic.
Mr McGovern said it was "unlikely" the lorry driver, Steven Young, would have seen the little girl.
He said Sophia had been hit by one of the front wheels of the lorry as it pulled away.
Mr Young told the inquest he had only diverted along Henley Road because the M6 was closed.
He said he had felt a "slight impact".
'Nobody responsible'
"The next thing I knew, there was a lady screaming, 'You've killed my baby'," he told the court.
When he got out of the vehicle, he said it looked as if "a mannequin" was between the lorry's wheels.
Mother Yvonne Clarke said one second Sophia had been holding her hand "and then she wasn't".
She added she held nobody responsible for Sophia's death "other than myself".
She also called for improvements to be made to the road to make it easier for people to cross.
West Midlands Police said the case did not pass the threshold for a criminal investigation.