Worcester teacher sent pupil 'sexually suggestive' emails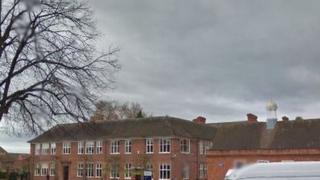 A Worcester teacher has been found guilty of unacceptable professional conduct for sending "suggestive" late-night emails to a pupil.
Laurence Paul told a professional conduct hearing he sent the emails between December 2015 and March 2016 while at The King's School, Worcester.
He was not banned from teaching after the panel found his behaviour was naive, rather than sexually motivated.
The school said Mr Paul no longer worked for them.
'Fave student'
The professional conduct panel heard Mr Paul was employed in the school's English department between September 2015 and April 2016.
He admitted he had sent a female pupil a number of "flirtatious and sexually suggestive" messages on the school server late at night and, on occasion, weekends.
The panel also found Mr Paul had asked the pupil to delete the emails.
In March 2016 the pupil told a friend about the messages who then told her mother, leading to their discovery.
However, Mr Paul was not banned from teaching because the panel felt his behaviour was at the "less serious end of the possible spectrum".
They found no evidence that he was aware that the girl - who described herself as his "fave student" - had developed feelings for him.
They also said that while there was sexual content in the emails and the language was "careless" and "inappropriate", they were not necessarily sexually motivated.
Alan Meyrick, acting on behalf of the Secretary of State for Education, said it was "proportionate" not to ban Mr Paul because his behaviour was "indicative of his naivety and lack of awareness."