Darren Cumberbatch death: Family march in Nuneaton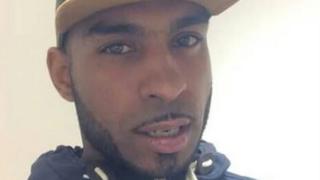 Family and friends of a man who died nine days after being arrested by police have staged a march.
Darren Cumberbatch, 32, was taken to hospital on 10 July after being detained at a hostel in Nuneaton by Warwickshire Police.
His family, who organised the rally in Nuneaton from 12:30 BST, allege officers used a Taser on him.
Police said the use of force does form part of the Independent Police Complaints Commission investigation.
Mr Cumberbatch's cause of death is not yet known.
Community activist Desmond Jadoo, who is helping the family, has said there were "unexplained injuries on his body".
His sister, Carla, says she wants to know what happened to her brother.
Assistant Chief Constable Richard Moore said: "The independent IPCC investigation is looking at the circumstances, including the use of force, and we are co-operating fully.
"It would not be appropriate for us to comment until the outcome of that investigation is known."