Why Coventry's new homes will be built outside the city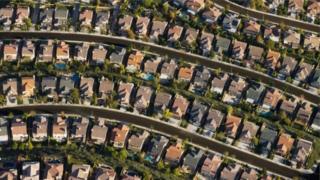 Coventry needs more than 40,000 new homes and the government has just approved a long-term housing plan.
But more than a third cannot fit inside the booming city's boundaries. So what does that mean for its green belt?
What is being proposed?
Coventry is the second fastest growing city in the country, the council says, and so the authority has been reviewing its "significant" housing need.
Just 7,230 homes were built between 2011 and 2014 - a 60% shortfall on what was needed, National Housing Federation figures revealed in 2015.
The authority's Local Plan will mean:
About 25,000 new homes built within the city's boundary and, by "agreement with neighbours", just under 18,000 in Warwickshire
About 17,000 of those built within the city will be on existing brownfield sites, with the rest earmarked for green belt land, mainly in the Keresley and Eastern Green areas
The Labour-run authority said up to 90% of green spaces and green belt land will be untouched as part of "the city's first urban extensions in half a century"
The plans cover 2011 to 2031 and some 6,000 homes have already been built
Just how hard is it to find a house in Coventry?
Mother-of-two Abbey Jones said she had struggled for a year to find a three-bedroom home for her family before finally finding a suitable property in the Wyken area.
"Lots of people are looking for houses but they can't find them," she said.
"A family home, near a school, parking and a garden is very hard to find.
"My partner builds houses and he's working six and seven days a week. They can't put them up quick enough here.
"My sister was living with friends to save money to buy a house and it's taking her a long time to find somewhere.
"There's a lot of students here and they're building a lot of student buildings and apartments and we don't need that - people just need homes.
"They're taking a lot of the two and three-bed houses and breaking them up into shared accommodation for them and that's homes we need.
"It's probably a problem in many places but it's very hard here."
What is the background?
Housing turnover has slowed down and the need for detached and semi-detached family homes in a city with a lot of terraced homes has risen.
Up to 80% of the 6,000 new homes built over the past five years have been on brownfield sites and with that land in short supply and the city surrounded by green belt, the authority has had to look to its neighbours for help.
Nationally, the demand has been described as "exceptional" and last month Prime Minister Theresa May announced plans to spend £2bn on a "new generation" of council houses and affordable homes for rent to help fix the "broken" housing market.
Labour councillor Kevin Maton, who worked on the Coventry housing plan between 2014 and 2016 as the then cabinet member of community development, helped start discussions with neighbouring Warwick district and county councils to see what could be done.
Birmingham faces the same dilemma, with councils in north Warwickshire, Solihull, Stratford-upon-Avon and Bromsgrove looking at helping the second city.
Mark Andrews, planning and housing policy manager, said 60% of the new homes would be three and four-bedroom properties. There will also be more student accommodation and homes to suit older and younger people.
How many will be on the green belt?
Up to 10% of green belt land will be used for about 8,000 properties.
There has been some dismay from residents at the plan straying on to the land, but Mr Andrews said the authority had tried to work with community groups to show them the housing need and why it had been considered.
In re-designating that type of land, the council said it was "vital to have a plan for growth and development that balances an ambitious plan for the city with protecting its more sensitive green spaces".
The government inspector's report said there were "exceptional circumstances to justify alterations to the green belt boundary", adding that "the proposed allocations are justified, effective and consistent with national policy".
But Conservative MP Andrew Mitchell, who is opposing 6,000 new homes being built on green belt in his constituency of Sutton Coldfield, said: "While the priority, the urgent priority, is to build more homes so the next generation has the same advantages as their predecessors, green belt should only be used as a last resort.
"In the West Midlands, we have less green belt than most of the rest of the country and we have a particular duty to future generations to preserve as much as we can."
He said it was legitimate to consider building on the green belt if all alternatives had been exhausted, but a West Midlands-wide approach was needed.
Local public opinion had to be "properly be taken into account", he said, and he wants more imaginative approaches to building.
Figures from National Housing Federation show there are currently about 1.6 million hectares of green belt land in England - which is designed to be regularly reviewed - and between 1979 and 1997 the size of allocated green belt land has doubled.
Earlier this year, Legal and General, one of the UK's largest housebuilders, called for a "critical reassessment" of green belt land to help solve the housing shortage.
Research on changing land use in the UK shows that all the buildings - houses, shops, offices, factories, greenhouses - cover 1.4% of the total land surface.
What do experts say?
The council believes its plan is "forward-thinking", which is echoed by Adam Morton, policy leader at the National Housing Federation, who said it was was an "excellent example of a local authority using its available powers to plan for vital new housing".
"Where a local authority knows it hasn't enough land to provide all the homes it needs, partnership working with neighbouring boroughs is absolutely the right approach," he said.
"It is likely that more local authorities will need to consider planning in this way if we, as a country, are to build the homes we need."
What does Coventry's Conservative opposition say?
Leader Gary Ridley said he was not against development, but it had to be right for the city and surrounding areas.
He would like to see brownfield land being used first and believes a strong enough case has not been made to develop the green belt.
Mr Ridley accepts not enough houses are being built but warned of a "developer-led" fear and said the plans could be changed at any time as "nobody has told them [Labour] where they've got to build them or what type they've got to build".
What happens next?
The plans will be discussed by the council's cabinet on 5 December and, if approved, will become policy if there are no legal challenges in the following six weeks.