Coventry celebrates City of Culture win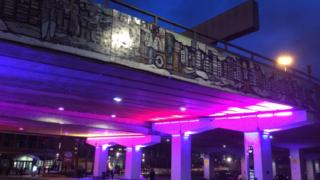 "Diversity and inclusivity" will be at the heart of Coventry's year as UK City of Culture in 2021, those behind the bid say. Is that vision backed by its people?
Two years of hard work came to a head on Thursday night when it was revealed that Coventry would be the UK's cultural beacon in 2021.
Though the morning that followed the announcement was particularly cold, there was plenty of hustle and bustle in the city.
And there was no avoiding the bid, with signs everywhere emblazoned with "Coventry 2021".
Away from the inevitable joy from organisers, people in the city seemed to welcome the announcement with genuine enthusiasm - and an excitement for what it might bring.
'There is lots going on here'
There were cheers from one family already enjoying some of the entertainment the city has to offer.
Teacher Clare Davenport, 40, was taking two-year-old son Niall to watch Santa's Mixed Up Martian at the Belgrade Theatre with her mother-in-law Elaine, 65.
Elaine is from Nuneaton and Clare moved to Coventry from 2013's City of Culture, Derry in Northern Ireland.
Clare said she had seen the power that winning the bid had on her home city and hoped it would do the same for Coventry.
Can Coventry rise up from its grimy decline?
A beginner's guide to Coventry culture
After avidly following the bid's progress on social media, Elaine tuned into the BBC's One Show specifically to see the winner announced.
"It is brilliant. Hopefully it will bring more people to the city that wouldn't ordinarily come here," she told the BBC.
"Coventry isn't a glamour city, but there is lots going on here. The theatres are brilliant, we're always coming here."
'There needs to be something for everyone'
Jenny Hughes, 67, was out on Friday morning visiting the Herbert Art Gallery and Museum with friend and fellow retiree Marie Little, 71.
She described the announcement as "fantastic".
The pair have lived in Coventry for decades. They say the museums are galleries are "brilliant" to visit and are places they regularly take their grandchildren.
But they said they wanted to make sure that the win does good for the whole of the city.
Ms Hughes said: "It is absolutely brilliant for Coventry.
"But they need to use it to do something for everyone, sometimes it feels like the focus in the city is on the students.
"What they need to do is get the teenagers involved, make sure they are doing something for them to get them involved."
Inside the museum, Jo Muskett, its director of marketing and communications, said she cried when she heard the news.
"City of Culture will mean so much to Coventry, it means more people coming in which will create more jobs, it is amazing," she said.
'Putting Coventry on the map'
Damian Kooriapee, 19, only moved to Coventry from Mauritius three months ago to study for his LLB law degree at the city's university.
He said: "It is very nice, there is lots of diversity, people from all over the world and it is nice to experience those cultures.
"When I talk to people outside about Coventry, it is not one of the better known cities like Birmingham, London or Manchester.
"For its popularity, it will be very good."
Sarah Jones, 28, a graduate of the university who works in sales and retail says she also thinks it will be good for Coventry's image.
She said: "It does get a bad press.
"I will be getting more involved now that Coventry has won."
But among the positivity, a note of caution could be found elsewhere. Colin Millard, 60, who looks after Holy Trinity Church was more sceptical about what the win will mean and who will benefit.
He said: "I'll be interested to see what they do with it."
'Culture should bring the city together'
Caitlin Leach, 20, from the city; Irina Ardeleanu, 18, from Leighton Buzzard and Rachel Wright, 18, are all studying disaster management and emergency planning at Coventry University.
They say the bid should be used to create arts and events that bring the whole community, of all ages and backgrounds together, in the style of Coventry's already popular Godiva festival.
They also praised the Fargo Village, known as Coventry's Creative Quarter, which was holding a party following the announcement.
'Show us what you've got'
Those behind the city's bid say are ready to show the rest of the country, and the world, what Coventry is made of.
Laura McMillan, manager of the Coventry City of Culture Trust, says Coventry isn't very good about shouting about what makes it great, but she hopes that winning the accolade will give the city something to be proud of.
"We have some fantastic arts organisations, community groups and businesses in Coventry, but they're a little bit underground," she said.
"The arts scene is excellent, but it is fragile, winning this bid will help us to shine a light on them.
"Coventry also has an amazing history of diversity and inclusivity and that is something that we think is important to share with the world in this current climate."
"It has been an incredible ride, it has been emotional to say the least but the support we have had from different organisations, particularly businesses, has been incredible
"The Midlands are often a bit forgotten about, but for them to say 'Yes, Coventry, show us what you have got, is a real boost."