Coventry hospital changes procedures after woman's death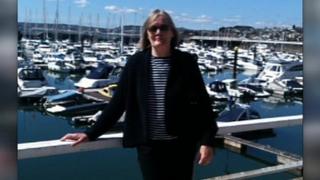 A hospital has changed its procedures after a woman allegedly called a "malingerer" by a nurse died from a previously diagnosed aneurysm, an inquest heard.
June Foxwell, 76, died days after she was sent home from University Hospitals Coventry.
At an inquest in Coventry, coroner Richard Brittain recorded a verdict of natural causes.
He said he was satisfied the hospital had taken steps to change procedures.
Mrs Foxwell's son Mark previously said his mother was called a "malingerer" by a nurse.
Mrs Foxwell, from Coventry, who suffered from chronic obstructive pulmonary disease, chronic kidney disease and hypertension, had suffered an abdominal aortic aneurysm prior to attending hospital on 27 August 2016.
She underwent a scan which was reported as showing no evidence of a leak from the aneurysm. After 48 hours' observation, she was discharged.
On 30 August she returned in pain, stayed overnight on the hospital corridor and was again discharged the following morning.
'Significant distress'
She collapsed later that day after the aneurysm burst.
The inquest heard the registrar who had seen her in the early hours of that morning, Mohammed Morsy, wrote in Mrs Foxwell's notes that she should return "home when confident".
However, he told the hearing he meant for her to be reviewed by a surgeon in the morning.
"I should have documented in the records that she should stay until morning," he said.
She was taken to theatre for an emergency procedure then transferred to intensive care. She died on 2 September.
Vascular surgeon Chris Imray told the court if he had been aware, he would have insisted that she was admitted on to a ward and and scanned again.
The hospital said this was now procedure for all patients presenting with back, kidney and abdomen pain.
Professor Meghana Pandit, chief medical officer at the hospital said: "We would like to apologise unreservedly to the family of Mrs Foxwell for the significant distress they have suffered.
"We offer our sincere sympathies."