'Lifesaving' coffee cart at Tile Hill station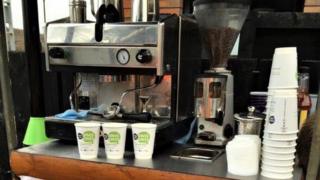 A coffee cart manned by a Samaritans volunteer has been set up at a railway station to try and help people who may be thinking of taking their own life.
The cart is at Tile Hill station, Coventry, to try to reduce the number of deaths on the railways.
Network Rail wants to encourage travellers to strike up conversations with potentially vulnerable people.
The cart was brought in to the station earlier and will remain in place until 22 December.
It is part of a campaign called Small Talk Saves Lives and is manned by volunteers from about 09:00 GMT to 17:30 GMT each day, with a trained barista from Samaritans.
Martin Frobisher, managing director of Network Rail's London North Western route, said: "This may seem like an odd thing to do but we want to change that. Suicide prevention needs to be part of our normal, everyday conversations and at the front of our minds."
"Just having a simple conversation about this heightens our awareness of the problem making us more likely to spot a vulnerable person."
The suicide rate in the UK decreased by 3.6% in 2016, compared with the year before. It was the biggest decline in 20 years, according to the Office for National Statistics (ONS).
Someone attempts to take their own life on Britain's railways every 36 hours. But Network Rail says, for every life lost on the railway, six are saved thanks to trained rail staff and British Transport Police officers.
Samaritans chief executive Ruth Sutherland said: "Suicide is everybody's business and any one of us could have an opportunity to save a life.
"I'm sure we'd all hope that if it were our loved one at risk that people around them would act."
Tile Hill is the first place to get the cart, but it is likely to visit other stations in future.