Hundreds of Christmas gift bags handed to refugees in Coventry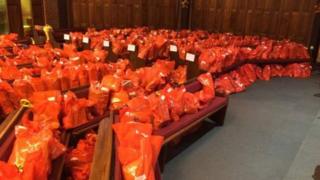 About 250 Christmas gift bags have been handed out to refugees and asylum seekers in Coventry.
The city has pledged to take in 625 Syrian refugees, more than anywhere else in the UK other than Glasgow.
Charity, Carriers of Hope said volunteers had spent all year compiling presents as well as putting together the bags of mince pies, cake, chocolates and vouchers for food.
Many of the refugees are experiencing Christmas for the first time.
Sue Sampson, from the charity, said volunteers hoped to make the time as exciting as possible.
She said visits by Father Christmas had been arranged for the children and about 600 presents had been handed out.
"They were delighted," she said. "We're talking about people who don't have much special in their lives, so this is bringing a bit of colour into their lives.
"Some have fled really dire circumstances."
Coventry City Council said 362 Syrian refugees had arrived in the city under the Home Office's Syrian Vulnerable Persons Relocation Scheme since July 2014.
Carriers of Hope said it had been supporting 188 extra families since the start of the year, from 52 different countries, including Syria, Afghanistan and Iraq.