George Eliot Hospital 'requires improvement' say inspectors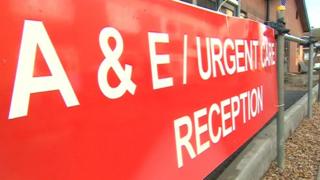 Urgent and emergency care at a Warwickshire hospital must improve, according to inspectors.
Senior nurses and leaders in the department at George Eliot Hospital in Nuneaton "were not visible" and other staff not fully trained.
The Care Quality Commission rated the trust as requiring improvement overall after its inspection in October.
A trust spokesman said a new hospital improvement board would be monitoring the necessary changes.
The hospital is part of George Eliot Hospital NHS Trust which serves about 300,000 people across Nuneaton and Bedworth, north Warwickshire, south-west Leicestershire and north Coventry.
Inspectors said services had declined since their previous inspection.
They rated it as good for being caring and requiring improvement for being safe, effective, responsive and well-led following the latest visit.
End-of-life care was inadequate as some staff lacked appropriate skills and experience for their roles and "the delivery of end-of-life care training was not sufficient throughout the hospital".
"There were no dedicated triage nurses in post and not all staff had been trained to triage patients," the commission said.
"Nursing leaders did not have the capacity to lead the department effectively; they were not always visible due to their large remit and demand in other areas of the hospital."
---
A patient's view:
Avis Lancaster has spent more than two weeks in the hospital with acute pancreatitis.
"I couldn't be happier with the staff. The only thing I would say is that's there's not enough of them.
"They're running around 10-to-the dozen... as well as in A&E, up here as well."
---
Good and outstanding practice found across the trust included the "clear vision" of the board and senior leadership team, the compassion staff had for patients and the "positive culture" in the diagnostic imaging departments, inspectors added.
Kath Kelly, trust chief executive, said some areas of concern had already been pointed out to inspectors and the overall rating was "hugely disappointing".
---
Analysis: Michele Paduano, BBC Midlands Today health correspondent:
This report is a serious setback but it has to be seen in the light of a 2013 report.
It was in special measures, had one of the highest death rates in the country and said it needed a partner organisation because it could not carry on alone.
Many thought it would not still be an independent organisation today but it is.
Many findings relate to training and learning from mistakes. What the hospital needs to realise, it's only a step away from the bad old days.