Sikh temple protest pair deny targeting mixed faith wedding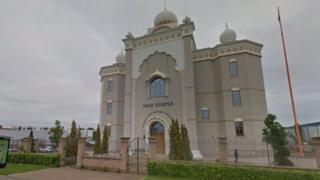 Two brothers who were among 55 men arrested at a Sikh temple amid a protest have denied it was aimed at a mixed faith wedding being held there.
Birmingham Crown Court heard Gursharan Singh, 34, and Kulvinder Bir Singh, 38, grabbed an official's tie and removed a sign at the gurdwara in Leamington Spa.
The men, from Coventry, deny committing religiously aggravated offences.
They argue they had been protesting in September 2016 about alleged misuse of funds and "corruption" at the temple.
Self-employed IT worker Gursharan Singh said he was sworn at inside the temple and said claims he deliberately pulled the official's tie were "just not true".
He said he had tried to place his hand on the official's shoulder to warn him about his bad language.
His barrister said there was no evidence the men knew the wedding had been taking place.
'Largest hammer'
Defence barrister Sunit Sandhu, speaking on behalf of Gursharan Singh, said: "He calmed the situation down, which was inflamed [by the official] using swear words."
Kulvinder Bir Singh, 38, who has worked as a pharmacist, said he caused no damage to signs at the temple and had no idea that an inter-faith marriage was due be held when the protest took place on 11 September 2016.
The defendant's lawyer, Talbir Singh, described the charge against him as "the largest hammer you will ever see to crack the smallest nut".
He said: "You may think he was motivated by a love for his faith.
"There is no evidence to demonstrate that this was motivated, even in part, by hostility towards a religious group."
The trial continues.