Pair cleared of Leamington Spa temple protest charges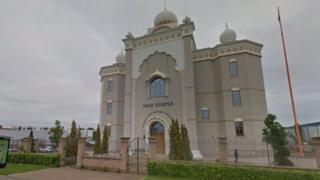 Two brothers have been cleared of acting unlawfully during a protest at a Sikh temple which saw about 50 arrests.
IT worker Gursharan Singh, 34, and Kulvinder Bir Singh, 38, had denied trying to disrupt a mixed faith wedding at a Leamington Spa gurdwara in 2016.
Gursharan Singh denied deliberately grabbing an official's tie and was found not guilty of common assault and religiously-aggravated assault.
His brother Kulvinder was cleared of religiously-aggravated criminal damage.
The 38-year-old was also cleared of causing damage to laminated signs during the protest at the Warwickshire town's Gurdwara Sahib.
Jurors at Birmingham Crown Court unanimously acquitted the pair over the protest on 11 September, 2016.
The Crown had alleged the defendants behaved in a religiously aggravated way during an attempt to disrupt the inter-faith wedding ceremony.
But both men, from Coventry, had told the court the demonstration was a protest against alleged misuse of funds at the temple.
'Smallest nut'
In closing speeches, counsel for both men said there was no evidence the protesters were even aware the wedding was taking place.
Kulvinder Bir Singh's lawyer, Talbir Singh, told jurors lawful protests were part of the fabric of British society and this was "exactly that".
"What was plain and apparent from the police investigation is that this was a protest that was considered to be peaceful - that's an agreed fact," he said.
"There is no evidence to demonstrate that this was motivated, even in part, by hostility towards a religious group."
He previously described the charges against the defendant as "the largest hammer you will ever see to crack the smallest nut".