Call for probe into Leamington Spa temple protest case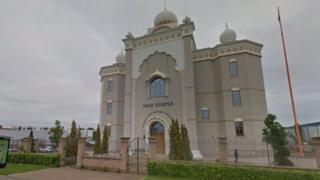 A call has been made for an investigation into the prosecution of two brothers, arrested during a protest at a Sikh temple.
Gursharan and Kulvinder Bir Singh, both from Coventry, were cleared of acting unlawfully by jurors on Tuesday.
They were among 55 people arrested during the incident at a Leamington Spa gurdwara in September 2016.
The Sikh Federation has said there should be an independent examination into their "unnecessary" prosecution.
Gursharan Singh, 34, was found not guilty of common assault and religiously-aggravated assault at Birmingham Crown Court.
His brother Kulvinder, 38, was cleared of religiously-aggravated criminal damage and of damaging signs during the protest at the Warwickshire town's Gurdwara Sahib.
Prosecutors had claimed it was an attempt to disrupt an inter-faith wedding ceremony.
Bhai Amrik Singh, chair of the UK's Sikh Federation, said: "We welcome the unanimous decision of jurors to acquit the two brothers and feel vindicated as we have said all along these prosecutions were totally unnecessary."
He said the incident has brought the "law-abiding Sikh community into serious disrepute".
'Ensure safe outcome'
Mr Singh said headlines at the time were fuelled by an "irresponsible" statement released by police, which said bladed weapons were seized at the scene.
A later statement said the blades seized had been ceremonial and that an inquiry was taking place into the initial report that other weapons were involved.
Ch Supt Alex Franklin-Smith, of Warwickshire Police, said information given to the media was accurate and based on the latest information available.
He said: "Our call handlers are trained to make quick decisions in response to the information they are provided with."