Second century AD Roman villa discovered in Warwick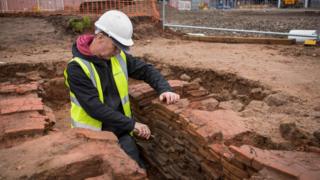 The remains of a "second century" Roman villa including a building "the size of a medieval church" have been found.
The building - in Warwick - shows agricultural use with corn drying ovens and also a "suite of domestic rooms", where the Romans would sleep and eat.
Archaeologists said it would have been the largest seen in the area and formed part of a large estate spread along the Avon's banks.
The county council said the find would be "preserved" under a new school.
The remains - made of local sandstone - were uncovered during building work on Banbury Road for a school relocation project.
Archaeology Warwickshire's Caroline Rann, who has been leading a "winter-long" excavation, says it is a rare find.
The group - brought in on the request of the body behind the plan to relocate King's High School from a town centre site - said the villa was more than 28m long and 14.5m wide.
Principal archaeologist Stuart Palmer said: "The building probably forms a component of a large villa estate, which must have spread along the banks of the Avon and been connected to the Roman road system.
"Early indications suggest it developed in the Second Century AD and probably went out of use in the Fourth Century."
Warwickshire County Council said the archaeological work had been handled sensitively, in accordance with regulations and was a requirement of the school's planning permission.
The authority added the building would be "preserved" under the new campus.
"Digging it up is actually a process of destruction anyway," Mr Palmer said.
"And if they weren't building there, we wouldn't have found it."