Dionne Clarke: Nuneaton couple murdered friend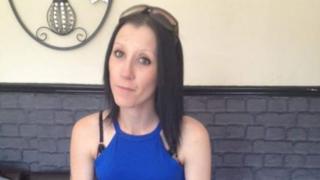 A woman found dead with 69 injuries was murdered by two of her friends.
Dionne Clarke, 27, was found dead at a house in Nuneaton in June after she was gagged and bound with duct tape and cable wire.
Dominic Wallis, 28, and his 20-year-old partner Elizabeth Ellis, both from Nuneaton, were found guilty of her murder at Birmingham Crown Court.
Wallis' parents, Karen and Kingsley Wallis, were found guilty of perverting the course of justice.
The court heard she had been left to die after her friends had attacked her, sprayed ammonia in her eyes and bound and gagged her.
Dominic Wallis, of Dryden Close, and Ellis, of Skey Drive, were both found at the house with Ms Clarke's body on Cornish Close on 17 June.
Both denied murder, initially blaming a third party before turning on each other to apportion responsibility.
Ms Clarke's body was found in the living room with 69 injuries to various parts of her body following an argument with the couple.
Karen and Kingsley Wallis, also of Dryden Close, were found to have tried to help cover up the crime.
The four will be sentenced at Birmingham Crown Court on Monday.