Dionne Clarke: Nuneaton couple jailed for friend's murder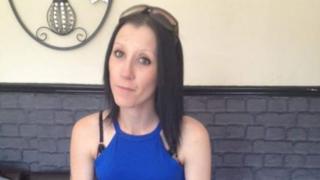 A couple who inflicted more than 60 injuries on a friend after an argument have been jailed for her murder.
The body of Dionne Clarke, 27, was found at house in Nuneaton in June.
Dominic Wallis, 28, and Elizabeth Ellis, 20, both from Nuneaton, sprayed ammonia in her eyes and bound and gagged her, the jury heard.
Wallis, of Dryden Close, was jailed for 18 years and Ellis, of Skey Drive, for 14 years at Birmingham Crown Court.
They were found guilty on 8 February.
Midlands Live: Mylee Billingham: Father back in hospital; Celebrated photographer dies
Wallis' parents, also of Dryden Close, were found guilty of perverting the course of justice.
Karen Wallis, 59, was sentenced to 15 months' imprisonment and her husband Kingsley Wallis, 55, was handed an 18-month sentence.
Wallis and Ellis had left Ms Clarke to die after attacking her, the court heard.
They were found with her body at a house on Cornish Close on 17 June.
Both denied murder, initially blaming a third party before turning on each other to apportion responsibility.
Heath Westerman from the Crown Prosecution Service said after the case: "Dominic Wallis and Elizabeth Ellis first sought to blame an innocent person for the death of Dione Clarke and then each other for her murder.
"What is clear is that they both played an active part in their friend's death.
"Following an argument with the victim, they attacked, sprayed ammonia in her eyes, tied and gagged her and then left her to die.
"They then tried to cover up their crime with the help of Wallis' parents."