Coventry 'hit-and-run' death scene 'like bomb went off'
The scene of a suspected hit-and-run crash in Coventry that killed two young boys was "like a bomb had gone off", their grandfather says.
Casper and Corey Platt-May, aged two and six, were hit by a car in MacDonald Road while on a family trip to a park on Thursday afternoon.
Grandfather Kim May, who was among them, said he "couldn't believe what I was seeing" and "burst into tears".
Two people are in police custody and will be questioned later.
The 53-year-old man and a woman, 41, were arrested on suspicion of causing death by dangerous driving and drinking and driving.
The boys' mother Louise Platt-May said Corey "never kept still" and was always "coming up with new ideas of things to do".
She said: "He loved school more than any kid I know. His favourite subject was maths. But his main passion in life was his football.
"He has been playing for a local team since he was four but since the day he could hold a ball he was never without one. He will be deeply missed by all that had the pleasure of knowing him."
Casper "was so loving and caring and constantly told his family how much he loved them," his mother said.
She said: "He loved walking everywhere with his wellies and splashing in the puddles.
"His smile could light up any room and he will be so so missed by all who knew him."
Mr May described the pair as "lovely, lovely boys".
He said there was "debris all over the road".
"Pushchair, baby walker, blankets, you name it. Everything all over the road.
"I haven't slept. I can't sleep because every time I shut my eyes all I can see is Corey.
"They were just very happy, jolly lovely boys and their lives have been taken away so young, it's unbelievable."
He described Casper as a "little livewire", who was "lovely to be with".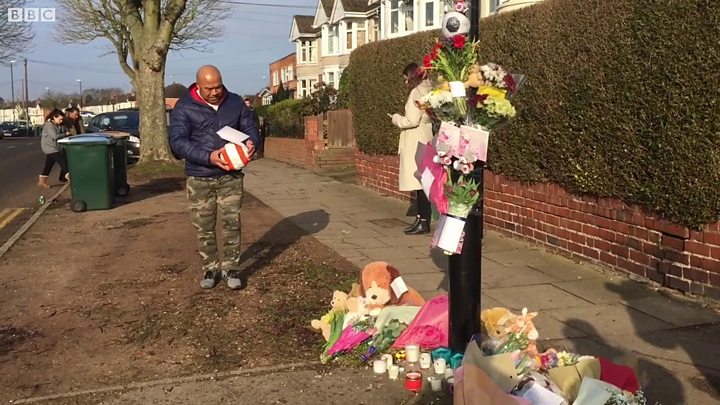 Corey and Casper were among a group of up to nine children being helped across the road by several adults on a family trip to a nearby park.
The brothers' aunt, Tia Fletcher, who was among them, said their parents were "beside themselves".
The boys also have two brothers, aged eight and four. Ms Fletcher said the eldest understood what had happened and "just wants to see his brothers".
Avtar Chagger, a 54-year-old chemist, was in his office overlooking Longfellow Road when he heard a loud bang at about 14:00 GMT, went outside and dialled the emergency services.
During a phone call lasting more than six minutes, Mr Chagger talked the emergency operators through what was happening and explained where he was.
He said there was "a lot of panic and emotions".
Mr Chagger said: "They told me to see if the six-year-old was breathing. I bent down and then a doctor came off the bus [to help Corey] so I went to the next child.
"There was somebody pressing the chest of the two-year-old. I held the nose and I breathed into the child a number of times. By then the police and ambulance arrived and I came aside and let them deal with it."
The boys' family said they wanted to say a "huge thank you" to neighbours, bystanders, the off-duty doctor and a nurse who helped at the scene, providing blankets for the two boys, and performing CPR.
Mr May thanked emergency services and residents who "did their utmost" to save the children.
"Something has got to be done after this terrible accident," he said.
"Too many cars are going too fast on this road. I don't want anyone to go through something like this again."
The manager at Coventry Copsewood under-7s Lions, Matthew Hopkins, said Corey was a "really, really, really gifted footballer".
Speaking about a gathering after a game, he stated: "I just said 'man of the match, Corey' and his eyes lit up.
"I actually did message Louise, mum... and said... Corey's the most improved. He's just getting better and better and better.
"He always wanted to get the ball out [of] the bag first before we would let him set up."
Coventry City said its players would wear black armbands during Saturday's match against Mansfield Town in memory of the boys.
Family and friends have set up a number of fundraising pages to help the grieving parents cover the funeral costs.