Mother attacked in Coventry by 'jealous' woman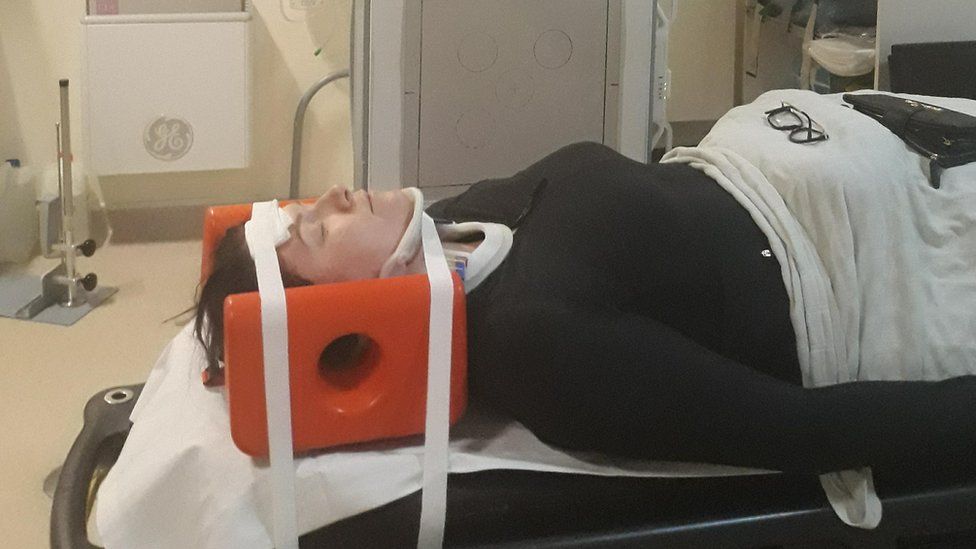 A mother said she had her head smashed on a windowsill by a "jealous" woman who saw her speak to a man at a bar.
Anne-Marie Szwed, 33, was on a night out at the Oak Inn in Gosford Street, Coventry, at about 04:00 GMT on Saturday when the attack happened.
Ms Szwed said she briefly spoke to the man before rejoining her friends.
She then went to the toilet, where a woman "rushed in", threatened to kill her, "grabbed" her by the throat and hit her head repeatedly.
"I was too drowsy to fight back", Ms Szwed said.
"I was asking her 'why are you doing this?' She said 'why doesn't he look at me like that? I'm going to kill you'."
The mother-of-one said she managed to stumble out of the toilets and told a friend.
She said they went into the toilet to find the woman, thought to be in her 40s, "calmly washing her hands", saying "I didn't do anything'". [Warning: A picture some people might find graphic follows]
Ms Szwed, who lives in Coventry with her four-year-old son, said the attack was "crazy" and "all over nothing".
"I can't even see my son because I'm still concussed. I'm supposed to be at his parents evening and he's got a birthday party soon which I don't think I can do," she said.
"I'm normally such an outgoing person, but I just don't want to go anywhere."
Ms Szwed told the BBC she was taken to hospital and had brain scans, "the bleeding was so bad it needed two people in the ambulance to keep pressure".
West Midlands Police confirmed it was investigating an assault.
"At around 04:40, a 33-year-old woman was followed into the ladies toilets by an unknown woman who grabbed her hair and hit her head against a windowsill.
"The attacker then left the premises."
Related Internet Links
The BBC is not responsible for the content of external sites.