Alfie Dingley: Ex-minister backs cannabis plea boy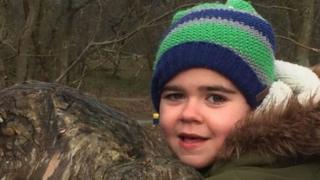 A former Home Office minister has appealed for a six-year-old boy with epilepsy to be given a special licence to use medicinal cannabis.
The parents of Alfie Dingley want the government to let him use cannabis oil, a banned substance in the UK, to help with his symptoms.
Ex-Justice Minister Sir Mike Penning said he had "huge" sympathy for the boy, who has 20 to 30 seizures a day.
The Home Office has previously said no decisions had been made.
It has said it would consider a medical cannabis trial as an option for Alfie.
Cannabis oil is available for medical purposes in the Netherlands where Alfie's family, from Kenilworth, Warwickshire, have previously paid for treatment.
Sir Mike, Conservative MP for Hemel Hempstead, urged Home Office Ministers to grant the licence "immediately".
He said in his view there was "substantial scientific evidence showing that cannabis is a harmful drug and, in its street form, is a gateway drug for many users".
"But surely in the 21st century, we can find an acceptable way to separate the two so that patients who gain relief from the use of the drug are legally and safely able to do so whilst recreational use is still restricted," he added.
A new study, published in the Journal of Neurology, Neurosurgery and Psychiatry, found seizures may be reduced by a naturally occurring compound found in cannabis.
Experts from King's College London and Australia released findings of a review of evidence on using cannabis and cannabinoids as an "add on" treatment for epilepsy, after researchers examined studies which included data on more than 3,000 patients.
They found Cannabidiol, a naturally occurring compound, was more effective than a placebo at reducing seizure frequency by at least 50%, but patients had an increased risk of side effects including drowsiness.
They added evidence was from studies involving children with rare and severe epilepsy.