Stratford-upon-Avon LGBT stall shuts over 'abuse'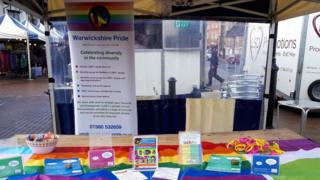 An LGBT stallholder says he received more than 100 homophobic comments in one morning, including being told homosexuality is an "illness".
Daniel Browne, a member of Warwickshire Pride, set up an information stall at Stratford-upon-Avon market on Saturday.
He said he was told an LGBT+ stall had "no place in Stratford" and packed up within three hours due to the verbal and behavioural abuse.
Warwickshire Police is aware and is treating the incidents as hate crime.
Mr Browne, who was running the stall alone, said he began counting the incidents but stopped once the number passed 100.
'Deeply upsetting'
He said he was told the stall was "disgusting" and "has no place in Stratford", and that one member of the public claimed to have nothing against LGBT+ people "because it's an illness that people can't help catching".
"A lot of people walked past tutting, making comments under their breath," Mr Browne said.
"It was very clear it was against us. There were no other stalls next to us."
It was "deeply upsetting and distressing", he said, but added: "We have to go back and stand against hate".
Junaid Hussain from Warwickshire's Equality and Inclusion Partnership said he is "shocked and disgusted" by the incidents but said he hopes it is a wake-up call.
Nadhim Zahawi, Conservative MP for Stratford-upon-Avon, Tweeted to say the abuse was "outrageous".
He said abuse is "never tolerated" and he will be working with police to ensure "perpetrators are found and brought to justice".