Homes evacuated as man held under Explosives Act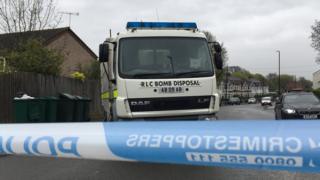 Eight homes were evacuated while an army bomb disposal team carried out an investigation in Coventry.
Officers searched a property in Brookside Avenue where they found possible suspicious items, police said.
A 20-year-old man was detained from the address and held under the Explosives Act.
The Army's Explosive Ordnance Disposal was called to carry out an examination of the items. Police said evacuations were a precautionary measure.
A small fire at the scene was the result of a controlled disposal of a substance on scrap land.
A goat was also removed from a property at the same time as the fire.
The bomb squad had left the scene by Tuesday evening.
Police said they were keeping an "open mind" in relation to the incident, which started during the morning. The road has been closed.