Coventry Cathedral scraps entrance fees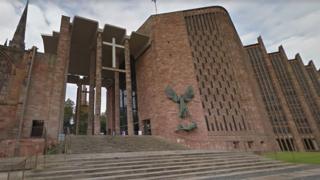 Coventry Cathedral which is built next to the bombed ruins of the old site has scrapped its entrance fees due to "generous donations".
Charges including £6 adult entrance fees were introduced in 2010 because donations were "simply not enough".
The announcement was made at the diocese's Centenary Festival earlier.
The Archbishop of Canterbury, Justin Welby, said the cathedral and the diocese were working together to "make sure the day-to-day costs are met".
Canon pastor Kathryn Fleming tweeted: "No more admission charges. Justin Welby cuts a ribbon and the diocese pours in. Welcome home."
The cathedral has been aiming to return to free entry for many years.
It has been able to axe its charges due to the "generous support of donors" but visitors can still make donations.
The new cathedral stands alongside the old building's ruins as a symbol of peace and reconciliation. St Michael's Cathedral was bombed during the Coventry Blitz in 1940.
Mr Welby, who served for 15 years as a canon and sub-dean in the city, said although the cathedral was no longer "that well known" in the UK, its "unique message" was known around the world, particularly in war zones.
Mr Welby, who is officiating at the wedding of Prince Harry and Meghan Markle in two weeks' time, said he was "nervous" about the day.
"In the first place I am always nervous at weddings, because it is such an important day for the couple, whoever they are," he told BBC Coventry and Warwickshire.
"In the second place I've made a couple of cack-handed mistakes over the last couple of weddings I have been involved with and I am thinking this is not a good moment to make it a hat-trick."