Coventry's parking scheme to continue despite criticism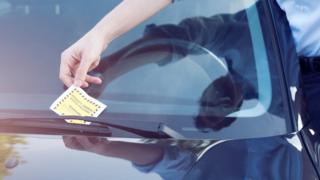 Controversial city centre parking charges will continue, a council says, despite five people having fines cancelled.
The Traffic Penalty Tribunal had called the scheme "delusional" saying poor signage made Coventry's restricted parking zone unclear.
The latest advice is that the scheme can continue and it will continue to review signs, the council said.
It said the issues only related to the five cases overturned in the ruling.
The adjudication said almost 60,000 fines have been issued in the last six years.
Chief tribunal adjudicator Caroline Sheppard claimed the high number of parking charge notices (PCNs) issued since 2012 should prove the restricted parking zone (RPZ) is not understood by motorists.
But, she said, the council had with "delusion reminiscent of King Canute himself" continued with the scheme.
The council said it has been assured the scheme is lawful and it is replacing signs that have become damaged or obscured by vegetation as well as installing repeater signage as needed.
It added 70 per cent of 60,000 fines related to issues such as vehicles parking for longer in marked bays than they paid for or wrongly parking in disabled bays.
Abdul Khan, the council's cabinet member for enforcement said its signs were approved by the Department for Transport when the scheme was brought in.
"This expert, specialist legal advice reaffirms what we already knew - that our scheme remains fully enforceable," he added.
The Traffic Penalty Tribunal has been approached for comment.