Jesse Richards murder: Police hunt for body in Corley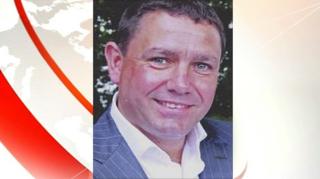 Police teams are searching a field for the body of a father-of-three almost a decade after his death.
Jesse Richards, 40, died in Evesham, Worcestershire, in July 2009, but his remains have never been found despite police offering a £10,000 reward.
Warwickshire Police officers are currently combing farm land in Corley after suspecting his body was dumped somewhere in the county.
Five men were jailed over his death in 2012.
Search teams and forensic officers are sifting through land around Breach Oak Lane. White forensic tents have been set as part of the two-day investigation.
Police said a £10,000 reward is still being offered for information which could lead the location of Mr Richard's body.
Bundled into van
A force spokeswoman told the BBC: "Police activity at Breach Oak Lane is part of an ongoing investigation into the death of Jesse Richards in 2009.
"The cordon is expected to remain in place for two-days while we carry out investigations."
Mr Richards was attacked by a gang with a range of weapons before he was bundled him into a van, a hearing into his death was told.
Police - who described the assault as "a brutal attack on an unarmed, passive, family man" - believe he was killed over a drugs debt and taken to Warwickshire to be disposed of.
Officers have sought to find Mr Richards, originally from Gloucester, with parts of Corley searched in the past.