Huge scrap metal fire shuts Coventry Airport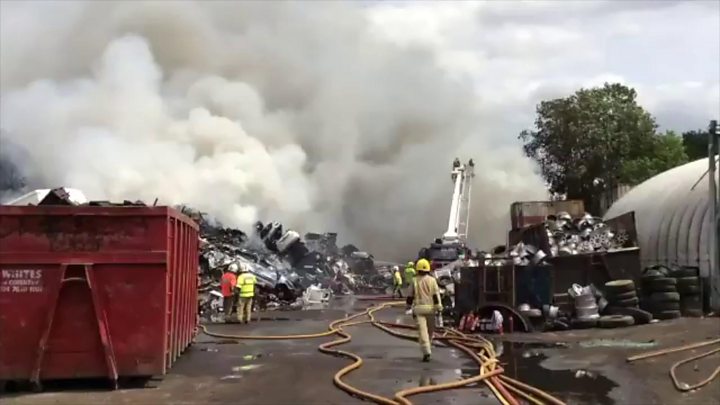 A huge fire broke out at a metal recycling company in Warwickshire, forcing Coventry Airport to close.
Scrap metal is burning at White's of Coventry, close to the A45, near Ryton-on-Dunsmore.
About 70 firefighters and 12 appliances were at the scene, near Coventry. The plumes of smoke were visible for miles around.
Drivers in the area were also warned to take extra care due to the thick smoke coming from the recycling centre.
Midlands Live: Seven led to safety after arson attack; Inquest into boy's house fire death
Residents near the site have been advised to close their windows and doors.
Warwickshire Fire and Rescue Service said the blaze was now now under control and crews are working to dampen down.
They have been helped by West Midlands Fire Service and Northamptonshire Fire and Rescue Service.
Warwickshire Police officers were at the scene directing traffic and preventing people from accessing the site, while the Environment Agency was checking for any potential impact on the local environment.
John Dixon, area commander for the fire service, said it was also looking at putting dams into rivers to stop pollution.
Luke Connelly saw the fire from his car and pulled over.
He said it looked like a "tanker had gone up".
"It is a big fire and it is about 300 yards from the road," he added.
"It doesn't look like it is going to be out any time soon, to be honest, it is quite ablaze."