No charges for assault probe Nuneaton councillor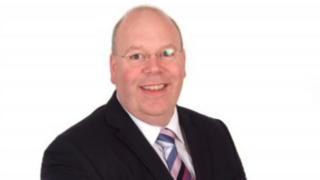 No charges will be brought against a councillor and ex deputy police and crime commissioner who was under investigation for an alleged assault.
Ex-Conservative councillor Rob Tromans was questioned by police about an alleged incident in Nuneaton's Justice Walk car park on 22 March.
The Crown Prosecution Service (CPS) said there is "insufficient evidence" to support a prosecution.
The BBC has contacted Mr Tromans for comment.
Rob Tromans had quit as Warwickshire's deputy PCC in April, citing "personal reasons".
Staffordshire Police was asked by the Warwickshire force to probe a report of an assault and said a 49-year-old man had been voluntarily interviewed.
In a statement the force said: "Following an independent investigation by Staffordshire Police into an allegation of assault against the former Deputy Police and Crime Commissioner for Warwickshire, Rob Tromans, no charges are to be brought.
"A file was submitted to the CPS who, having considered the evidence, concluded that there was insufficient evidence to support a prosecution."
In May the Conservative Party said he had had the party whip removed pending the results of the investigation.
Mr Tromans had secured the St Nicolas ward for the Conservatives with 1,392 votes during the local elections in May.
He is currently an independent councillor.