Funeral for Warwickshire long-serving police officer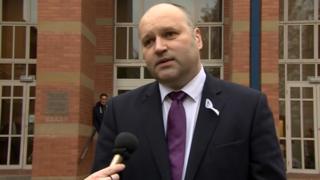 The funeral has been held for a "much-loved and long-serving" police officer who died suddenly.
Det Supt Adrian McGee, who served in the police force for 30 years, died on 28 June.
He led the major investigation unit at Warwickshire and West Mercia Police in over 400 cases.
High profile cases he headed or worked upon included the murder of 17-year-old Georgia Williams, killed by Jamie Reynolds in Shropshire in 2013.
He was described as "selfless" and "genuine" and the force said his death was devastating for his family, friends and colleagues.
Other cases he worked upon included a midair collision which killed five people near Coombe Abbey, in Brinklow, Warwickshire, in August 2008 and the murder of cerebral palsy sufferer Julie Fox, found dead in her bungalow in Worcester last year.
He also tackled sex trafficking cases, including the case of an 18-year-old Lithuanian woman sold for £4,000 after which the force was called upon to give presentations to detectives across the country.
The Keele University educated officer started in Leicestershire Police in 1988 and joined Warwickshire Police as a Detective Sergeant in 1994.
He worked worked in Special Branch and on secondment to the National Crime Intelligence Service.
He spent a decade heading up the major investigation unit of Warwickshire Police and since 2012 the joint major investigations unit of Warwickshire Police and West Mercia Police.
Chief Constable for Warwickshire Police, Martin Jelley, said the officer's "commitment to public service was second to none."
He said: "He had the reputation of being both a very skilled and capable police officer but also a thoroughly decent, kind and genuine man by all who knew and worked with him."