Warning over bogus charity worker committing sex assaults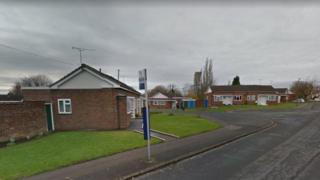 A man has been posing as a charity worker to commit sexual assaults, police said.
West Midlands Police said the man had been knocking on doors in Coventry and asking for money before following victims into their homes.
The latest assault happened on Friday and is one of "three similar" ones in the city this month.
Police said people should "exercise caution" when opening their front doors.
The man, who carries a clipboard, and wears a white T-shirt and black trousers, is described as a large Asian man, aged between 20 and 30, and about 5ft 10ins tall.
He has a dark beard and thick, wavy, short hair, police said.
'Inappropriately touched'
The most recent assault took place in the Earlsdon area of Coventry at about 12:40 BST on 20 July, when he followed a woman into her home and "inappropriately touched" her.
At around 13:00 on the same day, there was a second assault in the Eastern Green area of Coventry, police said.
Officers said they were exploring potential links between an earlier incident when a man with a similar description groped a woman he had stopped on Foster Road, Coventry, at around 17:00 BST on 2 July.
On Sunday, a man with a similar description called at a door asking for money in Holloway Field, but "left without incident" officers added.
Det Sgt Laura Harrison, from the public protection unit, said the assaults had caused "huge distress to the victims".
"Due to similarities in the descriptions that victims have given us, we are linking the offences.
"While this is a very rare occurrence, we'd like to remind people, particularly the elderly or vulnerable, to exercise caution when opening the front door to strangers", she said.