Bystanders film Coventry police officer knocked off bike during chase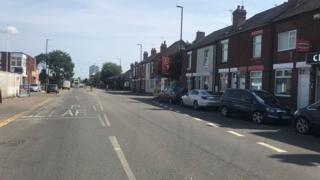 Police have criticised the "disgusting" actions of bystanders who filmed an officer who was knocked off his bike instead of helping the rider.
The officer was pursuing a stolen bike in Coventry when he was knocked over in Stoney Stanton Road on Wednesday.
The officer was taken to hospital but discharged with "bumps, bruises and a bit of shock".
West Midlands Police Road Harm Reduction Team tweeted it was "not what any of us come into work for".
"Very disappointed to report that when one of our team was knocked off his bike while pursuing a stolen bike the first thing people thought to do was to record the incident on their mobile phones rather than help the rider," the team posted on Twitter.
The Tweet had been shared nearly 100 times and received support from a number of users, including other branches of the West Midlands force.
The Force Contact team branded it "absolutely disgusting behaviour", adding: "For those filming our injured colleague, the difference between us and you is if you ever need our help in future, we still respond."