Specials singer Neville Staple 'devastated' by grandson's death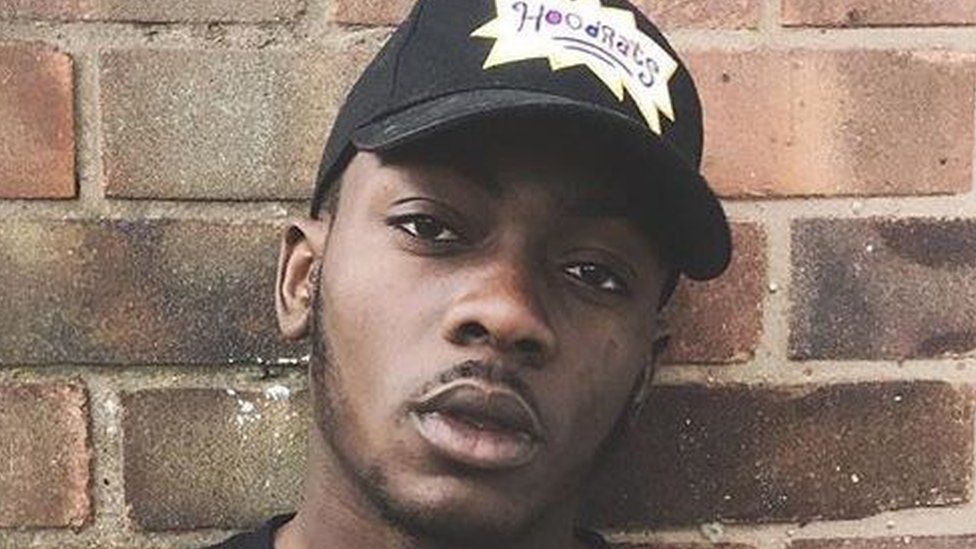 The Specials singer Neville Staple has spoken of the "heartbreaking loss" of his 21-year-old grandson being stabbed to death.
Fidel Glasgow, the son of Mr Staple's daughter Melanie, died after being stabbed in Coventry on Saturday.
The Neville Staple Band played at a festival, dedicating a song to him and sending a message about knife crime.
A 23-year-old man was re-arrested on suspicion of murder on Sunday, West Midlands Police said.
In a tribute, Mr Glasgow's mother said: "When your beautiful heart stopped beating my heart broke in two, knowing that here on earth there won't be another quite like you.
"My beautiful, one of a kind child, you're a part of me today and always."
Mr Staple, vocalist in the Coventry ska band, wrote on Facebook on Saturday evening: "We are truly devastated to announce the heartbreaking loss of my grandson Fidel (my daughter Melanie's son), who died today as a result of being attacked with a knife in the street.
"We want to thank the hospital staff & surgeons at UHCW University Hospitals Coventry and Warwickshire, who battled all day to try & save him.
"My beautiful daughter Melanie & wife Christine Sugary, all the family and myself are still shocked by this tragedy, but would like to thank you all for the kindness & messages we have received."
He later posted: "We have the best fans in the world . . . so we ask that you help us turn our pain into a message.
"Let's show the young people that this knife trend has to stop!"
The Neville Staple Band played at Coventry's Godiva Festival earlier after the family said the show would go ahead, with a warning about knife crime.
Mr Staple's wife Christine sent out the message before the band performed the hit A Message to You Rudy, which was dedicated to their daughter and grandson.
She said: "Young people they have got to learn to give more love and stop the knife crime.
"It is just wrong. Knives take lives.
"If you want to have a fight... do it a sensible way you'll still have a winner but no-one will die.
"We all need to do this together, it can't be done by one person alone, by one politician alone, it is all of us, we need to take responsibility."
Before the performance, Mrs Staple said: "Our daughter Melanie said she wants us to still do it.
"Fidel was just so handsome, so sweet, such a charmer, anyone who met him would always say 'he's just so wonderful, what a lovely boy'.
"But he had become a man, he'd reached 21, and he was just lovely, just amazing and I just can't believe he is gone still, I really can't.
"I think we are all still in shock really, we're still quite numb. We did a lot of crying yesterday and a lot of stressing."
Mr Glasgow was found injured at the rear of Club M in Croft Road in the early hours of Saturday and later died in hospital.
Another man, aged 23, was found with stab injuries in Queen Victoria Road and remains in a serious but stable condition following surgery on Saturday afternoon.
Det Insp Harry Harrison said: "Sadly another young man has lost his life in a knife attack.
"Our thoughts are with his family at this dreadful time.
"We are aware that numerous people who were at the club at the time could have witnessed what happened.
"I would urge them to contact us with any information no matter how insignificant it may seem."
Related Internet Links
The BBC is not responsible for the content of external sites.