Village of Long Itchington gets memorial to WW1 soldiers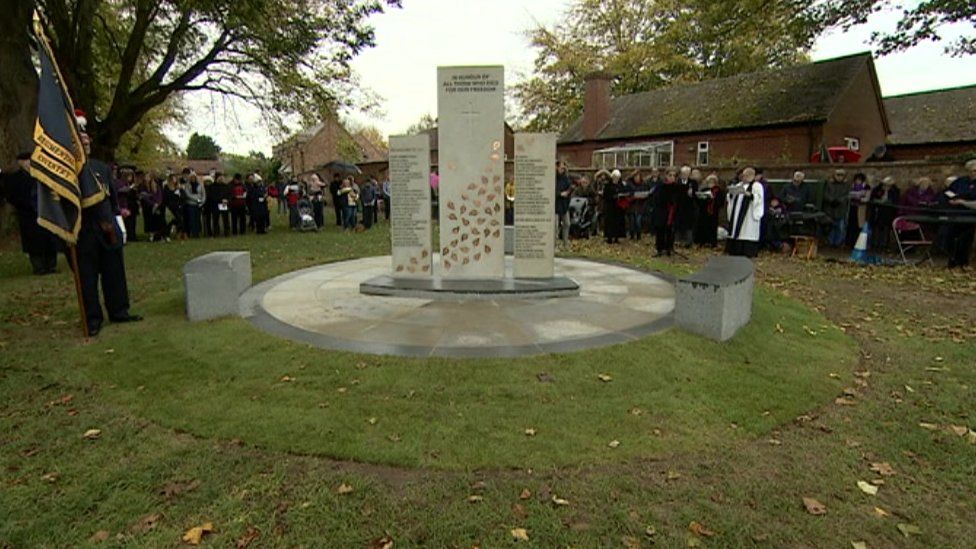 A village which lost 4% of its male population during World War One has finally unveiled a memorial to its fallen soldiers.
Until today, Long Itchington in Warwickshire had not had a "permanent and visible" war memorial.
The village raised nearly £40,000 for the memorial, which features 54 bronze leaves to represent the villagers who died.
"I hope they think the village cared," organiser David Berry said.
Previously, all that existed in the village to commemorate the war was a wooden plaque inside the church.
"If you didn't go to church, you probably wouldn't know it was there," Mr Berry said.
"We didn't have a permanent, visible war memorial."
Designer Peter Hyde said: "Most villages have a war memorial and we didn't" .
"It's about time we had one."
Researcher Russ Mansfield said the new memorial had additional names on it after more fallen servicemen were discovered.
The new one commemorates 54 men, whereas the previous plaque only listed 43.
"This village paid a very hefty price," Mr Mansfield said.
"It lost 4% of its male population- which is double the national average."