Death mask of last woman hanged in Coventry goes on display
By Vanessa Pearce
BBC News, West Midlands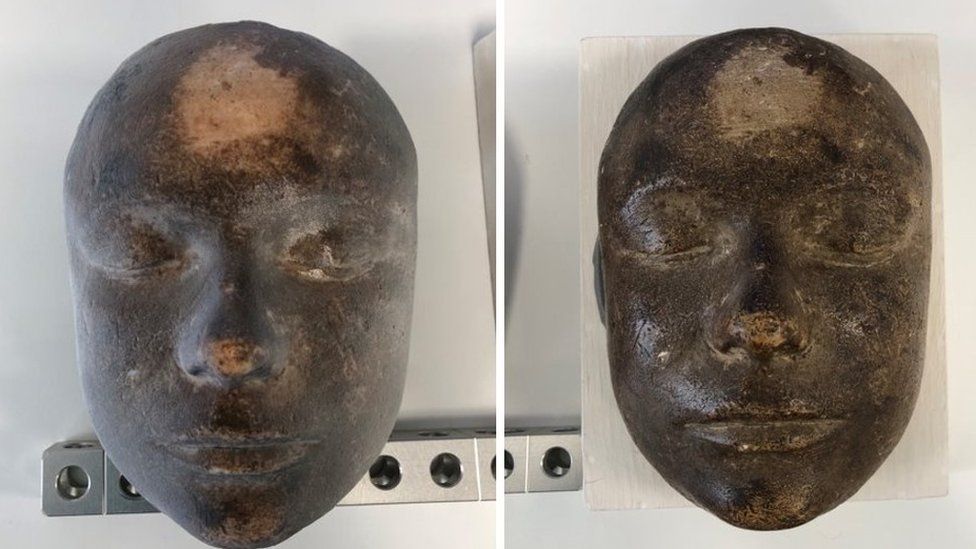 The last person to be hanged in Coventry has been put in the spotlight once again as a copy of her death mask goes on display, along with her tragic story.
Mary Ball was executed in 1849 after being found guilty of murdering her husband Thomas with a lethal dose of arsenic.
Immediately afterwards, her features, including every wrinkle, were captured in a death mask - a recreation cast in plaster of Paris from a mould applied to her face.
But even before her death, her lot had not been a happy one, local tour guide Jo Phillips said.
The Nuneaton woman was "stuck in a violent marriage, living in poverty" she said, and only one of her six children had survived.
Hayley Ball, a distant relative of Thomas, told the BBC in 2018 she believed Mary's husband used to beat her as well as having lots of other relationships.
"On the other hand Mary herself was perhaps not the blue-eyed girl," she added.
Until the Arsenic Act of 1868 - brought in after a spate of murders and poisonings - the deadly and tasteless substance was easily available to buy over the counter and widely used to get rid of bedbugs, rats and, in some cases, husbands.
However, after gossip spread through the community about the unhappy marriage, further tests showed he had died of a lethal dose of the poison, and Mary was charged with murder.
At her trial, a jury at the city's county court convicted her of murder, but with a recommendation of imprisonment, not death.
However, the judge, Justice Coleridge, was not easily swayed and told them to reconsider as he did not see what grounds they had for recommending mercy. The revised verdict was guilty of wilful murder and she was sentenced to death by hanging, the account shows.
"No mercy was shown by the judge," said West Midlands Police heritage manager, Corinne Brazier, adding the story might have had "a very different ending if it had taken place today."
"She could have been suffering from mental health issues, after losing five babies.
"Nowadays she could be looking at a manslaughter finding or found that she was criminally insane - all of that would have played at part.
"But back then it wouldn't have been taken into account at all."
After the sentencing she was subjected to a further "horrific" incident, said Ms Brazier.
While awaiting her punishment in her cell Mary was visited by the prison chaplain who tortured her by holding a lit candle to her arm "to give her a taste of what awaited her in hell," she said. After denying murder at her trial, Mary later reportedly confessed to it.
On the morning of 9 August, 1849, crowds of up to 20,000 people had gathered in the city centre to witness the public hanging on Cuckoo Lane, many of them tempted by the opportunity to see one of the most prolific of British executioners - William Calcraft.
Jo Phillips, who runs Hideous History walking tours in Coventry said they had not come to see "poor Mary," but attracted by Calcraft's notorious hanging methods.
"He was known for his poor taste of how he entertained the crowds," she said.
"But a report from the time showed he had wanted to charge the authorities too much money, and a local hangman took his place."
Extract from the Leicestershire Mercury Saturday 11 August 1849
Every window, and in fact every place that an individual could perch upon was occupied - some of them letting for large sums.
Ten O'clock was the hour for the culprit to suffer, and as the time approached, it would be impossible to describe the tumult, the din, the intense excitement that prevailed.
Exactly at ten O'clock the sonorous bell of St Michael's tower began to toll, announcing that an immortal soul - (immortal though stained with crime) was about to leave the body.
The body was then cut down and the thousands who came to witness her end departed, deeply regretting they had seen it. Great numbers of them declared it was the first and should be the last time they ever went to see anybody hung.
A so-called death mask, cast immediately after her execution, has now been reproduced and goes on display from 5 June in a pop-up museum as part of Coventry's year as City of Culture.
Ms Brazier said while the mask might be a bit of a "macabre" exhibit, it was important "to bring the very personal side of her story to life".
Engineer Mike Donnelly from WMG at the University of Warwick, tasked with creating a modern 3-D model of the mask, said the process had been "both morbid and fascinating".
"It's very eerie, you're looking at the face of somebody who died quite a tragic death over 160 years ago," he said.
"If you were to hold that mask in your hand I think it would really hit home - this was a real person who suffered quite a horrible death."
Hayley Ball's daughter Lamorna, 21, said she had been shocked when she saw the original death mask as a child and would be visiting the new exhibition.
"It's not everyone who can say they have a death mask of a relative," she said.
Related Internet Links
The BBC is not responsible for the content of external sites.