Covid-19: Construction schemes delayed as staff self-isolate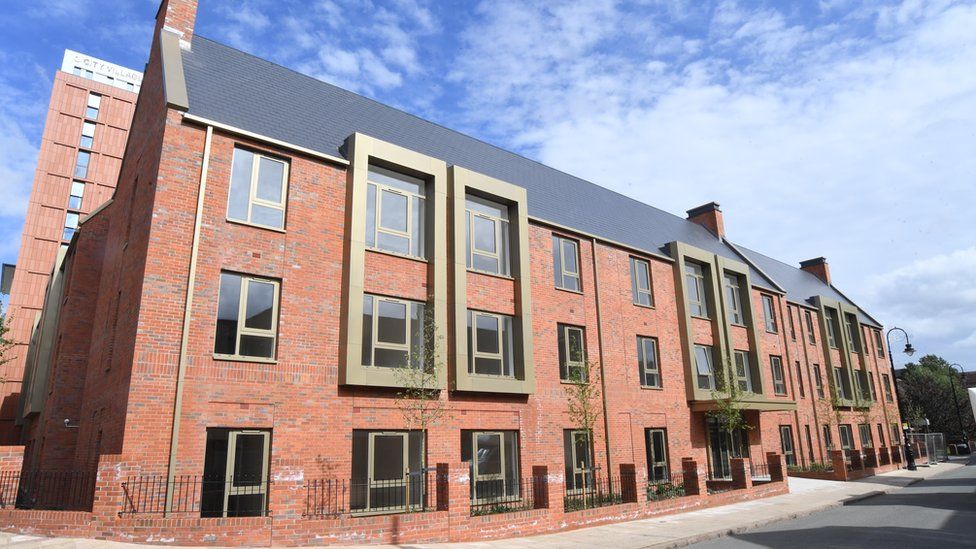 A construction company said almost all of its sites have been impacted by staff shortages as workers are told to self-isolate.
Eleanor Deeley, of the Coventry-based Deeley Group, said work on projects including care homes and housing was delayed as a result.
She is calling for construction workers to be exempt from self-isolation rules.
The government is due to reveal which fully vaccinated key workers will be exempt from self-isolating.
The Deeley Group, which has 14 construction sites staffed by 80 employees and 350 sub-contractors, is working on developments including medical centres, student blocks, a supermarket and a school expansion.
Ms Deeley said the government should see construction firms as critical businesses or allow them to be part of a trial to be tested daily instead of self-isolating.
"If we could test every day then that should alleviate the problem and we should be allowed to continue working because we are an essential industry," she said.
Ms Deeley said 90% of the sites had been hit by staff shortages as workers were told to self-isolate by the NHS Test and Trace app.
In one instance, 12 ground workers were told to isolate but she said even small numbers have a big impact on their building projects.
"It means the production of the affordable housing is pushed back more than that because other trades can't just fit in and drop other projects to accommodate," she said.
Ms Deeley said the pandemic was continuing to impact building projects further up the supply chain too, adding delays to delivery times for products.
"Doorframes have gone from six weeks to six months. How is it we can build a house quicker than we can get hold of a door?", she said.
"We tried to get hold of flooring for a student scheme. Last month it was 10 weeks, now it's six months."
Downing Street said a list of workers who will be exempt from self-isolation if they are fully vaccinated is due to be published on Thursday.
Self-isolation for all fully vaccinated people pinged by the NHS Covid-19 app in England as close contacts is due to be scrapped by 16 August.
Related Internet Links
The BBC is not responsible for the content of external sites.