Lottery cash for flood-hit community in Cumbria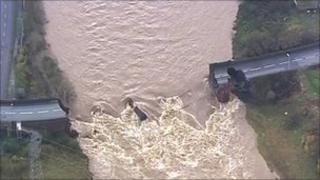 A voluntary group in flood-hit Cumbria has been awarded almost £500,000 in lottery cash.
The £499,813 from the Big Lottery Fund will support activities including community resilience planning and the training and recruitment of volunteers.
It will also aid the rebuilding of community facilities such as Keswick youth centre.
More than 1,300 properties were flooded across the county during heavy rainfall in November 2009.
Cumbria Council for Voluntary Service (Cumbria CVS) will be working on the project with Cumbria Community Foundation, Cumbria Sports Partnership, Young Cumbria and Action with Communities in Cumbria.
John Gartside, from the Big Lottery Fund, said the award recognised the "tremendous resilience and spirit of the people of Cumbria in rallying around to get their community working again."
He added: "We are delighted to support them in this very worthwhile project which will enable the community to pull together to build vital resources, services and facilities and provide crucial support for those most vulnerable in the community."