Cumberland Show goes on after 2009 washout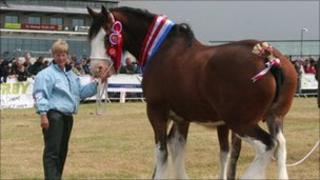 Thousands of visitors turned out for the Cumberland Show after the event was cancelled last year.
Despite heavy rain again this year, about 20,000 people flocked to the event at Carlisle Racecourse on Saturday.
Last year's show had to be cancelled for safety reasons after Rickerby Park became waterlogged due to heavy rain.
Attractions this year included horse jumping, a sheepdog display, falconry, music, dancing and singing.
Organised by the Cumberland Agricultural Society, it was first staged in 1837 and is the largest agricultural show in north Cumbria.