Historic Cumbrian crane dismantled on yard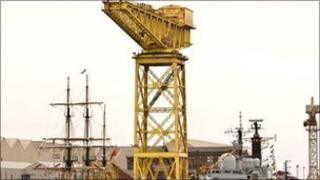 Work to dismantle an iconic crane at a shipyard in Cumbria has begun.
BAE Systems, which runs the yard at Buccleugh Dock, Barrow, said it would take up to eight weeks to dismantle the 165ft (50.3m) yellow crane.
It is being taken down for health and safety reasons due to long-term rusting.
About 6ft (1.8m) of the crane will remain to support a plaque for two fire watchmen who died when the original cane toppled in an air raid in 1941.
The crane was last used to help outfit the assault ship HMS Bulwark, which was launched in 2001.
A spokesperson for BAE Systems said: "The company has been looking at this for some time now. The crane has not been used for a number of years and is now starting to rust.
"We have decided to take it down for health and safety reasons, and we need to do this while it still remains in a fit state for us to do so."
The crane replaced one that was knocked down during World War II.