Cumbrian widow's motorcyle danger warning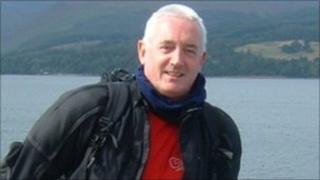 The widow of a former Cumbrian policeman who died in a motorcycle accident, has backed a campaign to educate bikers on road safety.
In 2007, former police officer Jim Murray, 53, from Kendal, was killed as he rounded a bend and collided with another vehicle.
The crash happened on the A6070 between Burton-in-Kendal and the M6.
His widow, Janice, 46, said people need to be aware of the dangers, to avoid the heartache of losing a loved one.
She said: "I would never want people to stop riding motorcycles, and stop doing what they love, but we all need to be aware of the consequences of our actions on the roads.
"Whether you're a pedestrian, a pedal cyclist or a motorist, you need to take care, look out for one another and think about the ripple effect created by a death on the road, and the families that are affected."
'Experienced motorcyclist'
Sgt Jo Lennox, of Cumbria police, is coordinator of the Bikesafe scheme, which offers advanced motorcycle riding sessions to bikers using the county's roads.
She said: "As Jim's story shows, you never know what is around the next bend, no matter how experienced a motorcyclist you are.
"With the start of the good weather, comes the start of the motorcycle season, so please make safety your first priority so that you get home safely."
In 2010, to-date, there have been 37 serious collisions involving motorcycles in Cumbria including one fatality.
This is up by 15 per cent on last year.