New housing to fund Barrow waterfront regeneration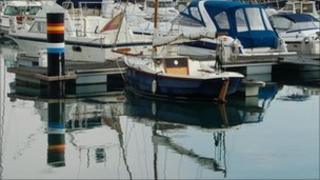 There are hopes a waterfront development in Cumbria will still go ahead, despite problems with funding.
The £100m Marina Village project in Barrow - a 350-berth marina and hundreds of homes - was aimed at boosting the area's economy.
It was feared it would be put on hold with the winding up of the North West Development Agency.
There are now plans to start with the housing part of the scheme and use the receipts from sales to fund the marina.
Bob Pointing, the project director, said: "We've got to refocus.
"We have the plan, we have the developer, we have the detailed plan for the canal cut which would lead into the new marina, and we have the harbour revision order.
"What we haven't done is secure all the funding."
He said that while the original intention had been to build the marina first and the housing second, the Homes and Communities Agency would be approached for funding to develop the first two phases of the housing scheme.
Income from sales would then be used for the marina.
Mr Pointing added: "Things are bad now in terms of funding, but we are going to come out of the recession, and funding will start again.
"I am confident that it will be completed, because it is not just about a fancy marina for yachties, it is about changing the whole future of Barrow."