Mother's tribute to son found dead at Cumbrian campsite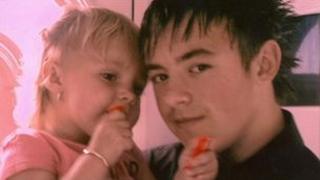 The mother of a teenager who died at a makeshift campsite in Cumbria has paid tribute to her "funny and loveable" son.
Police are looking at whether David Foster, 15, from Stoneycroft, died after being overcome by petrol fumes at Great Clifton, near Workington.
The Year 10 pupil was camping with three friends, one of whom is still in hospital after inhaling fumes.
Joanne Foster said: "David was our world and our life."
She added: "He was cheeky, funny but so loveable. Not a day went by without him telling us that he loved us and us telling him.
"David was never scared to speak his mind and didn't care who he upset - if he had something to say, he would say it."
David's sister was born when he was 13-years-old.
Mrs Foster said: "David named her Abigail and was there helping, feeding and changing nappies from day one.
"I don't know how we move on from this. He will be so very missed. I love him so much."
Cumbria Police said officers who attended the scene on Thursday afternoon reported a strong smell of petrol.
It is understood the boys used petrol to help start their camp fire.
Devastating blow
Det Ch Insp Barry Carruthers said: "When we attended, there was a very strong smell of petrol at the scene.
"We are investigating the circumstances surrounding David's death and whether fume inhalation was a contributing factor."
Chris McGrath, David's head teacher at Stainburn School said: "David was a well-liked pupil who was well known among his peers.
"He had a real zest for life and was a very talented sportsman.
"David's loss will be a devastating blow to his loving and caring family. He was the apple of his mother's eye and was a very caring and considerate older brother to his baby sister."