Disabled Cumbria man to climb peaks for granddaughter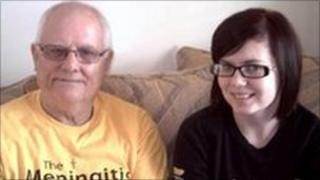 A wheelchair user is to attempt to scale mountains after making a "pact" with God when his granddaughter survived meningitis twice.
Keith Matthews made the promise when his granddaughter Tanya beat the bug in 2008 and earlier this year.
Mr Matthews, who has been disabled since a car crash in 1982, now plans to scale the 2,785ft (848.8m) Mourne Mountains in Northern Ireland.
The 68-year-old, of Workington, is raising money for the Meningitis Trust.
He said: "I said to him [God] that if she pulled through I would do everything I could to help support anyone who has experienced meningitis.
"That's why I chose the Meningitis Trust, as it provides a lifeline to people whose lives have been turned upside down by the disease.
"People just like me and my family."
Good recovery
His granddaughter, now 20, survived meningitis in 2008, but was left deaf in one ear.
She recently contracted the less-serious viral strain of the disease and has made a good recovery for a second time.
Since he was left in a wheelchair, Mr Matthews has scaled a number of peaks including including Ben Nevis, Snowdon and Helvellyn.
He will begin his latest challenge on 9 August.
Meningitis is life-threatening and affects the membranes surrounding the brain and spinal cord.
Symptoms include fever with cold hands and feet, vomiting, headache, stiff neck, dislike of bright lights, joint or muscle pain and drowsiness.