Street drink ban for Cumbrian town carnival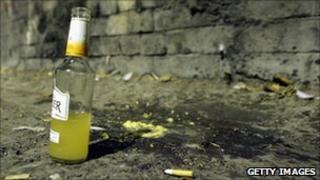 A ban on street drinking will be in force during a Cumbria town carnival.
The annual Abbeytown Parade will start on Main Street at 1330 BST on Saturday.
Police said they wanted everyone to enjoy themselves but anyone planning to drink excessively and cause distress or trouble would be targeted.
An on-street drinking ban will be in force throughout the day and no alcohol will be allowed in the vicinity of the procession of floats.
PC Andy Robertson, of Wigton Neighbourhood Policing Team, said: "It is a celebratory and family-orientated event, but on occasions we have had a small number of people who consume too much alcohol and may go one step too far.
"Anyone arrested in connection with alcohol related disorder will not only be dealt with by the police but their details will also be supplied to the Pubwatch Scheme which can hand out exclusions that can last from six months to an entire lifetime."
Mr Robertson added that alternative routes have been arranged for motorists in a bid to cause minimum traffic disruption.