Brothers fined over Carlisle employee's roof plunge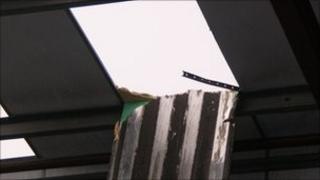 Two businessmen brothers have been fined a total of £13,000 after a worker suffered a crushed skull when he fell through a roof.
Alan Hind was demolishing a roof in Carlisle in February 2008 when he fell 20ft (6m) on to concrete.
The 28-year-old of Corrie Common, near Lockerbie, was left blind in one eye and suffered 16 skull fractures.
Traders Robert and Eric Murray pleaded guilty to a number of health and safety breaches at Carlisle Crown Court.
Robert Murray, 56, of Annan, who was trading under the name Murray Structures, pleaded guilty to failing to train workers and failing to ensure work was carried out safely.
He was fined £8,000 and ordered to pay £4,000 costs.
Eric Murray, 54, of Dalton, near Lockerbie, who was trading under the name of EJ Murray (Steel Structures), was found guilty of failing to prevent workers being injured during a trial in June.
He was fined £5,000 and ordered to pay £8,000 costs.
Mr Hind has been unable to work since the fall and had to have a titanium plate inserted into his skull.
Casual labourers
He said: "It was a frightening time. There was nothing to protect my brain - just skin.
"I didn't like to be around lots of people in case I bumped my head."
David Charnock, of the Health and Safety Executive, which brought the prosecution, said: "Mr Hind is lucky to be alive following his fall, which could and should have been prevented.
"Unfortunately neither Robert nor Eric Murray took the necessary safety precautions and Mr Hind suffered horrific injuries as a consequence.
"The workers they employed were casual labourers and did not have the skills or experience."