Pictures of beaten man released to aid police inquiry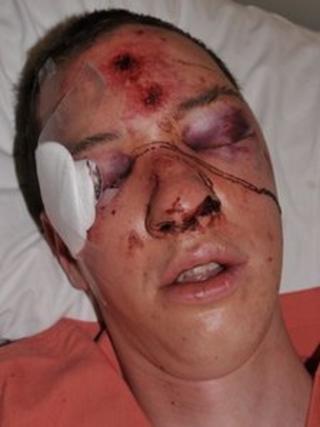 A man who was seriously assaulted by four men on a night out in Cumbria has released photographs of his injuries to help track down his attackers.
Ian Renouf, 24, from Workington, was out with friends in Cockermouth when he was attacked in Lowther Went Shopping Arcade at 0215 BST on Sunday.
He was taken to West Cumberland Hospital with serious facial injuries following the "unprovoked attack".
It is hoped the photograph will encourage witnesses to come forward.
Mr Renouf was discharged from hospital on Tuesday and is recovering at home.
Sgt Jez Charge said: "We are sure that somebody who was out in Cockermouth on Saturday will have witnessed the incident or have information that can help us.
"We hope that seeing the extent of Ian's injuries will spur witnesses to pick up the phone and tell us what they know.
"It is believed that the victim and the offenders were in the Arena Bar in Cockermouth earlier that evening. If you were there, we need to speak to you."
The offenders are believed to be local and in their 20s.