Rubbish tax boost for Cumbria's wildlife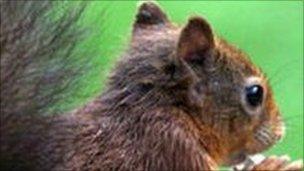 Cumbria's plant and animal life are to benefit from more than £380,000 raised through a tax on landfill.
The money was awarded by Wren (Waste Recycling Environmental Limited) which gives out cash made from taxing rubbish to good causes.
The Woodland Trust will spend £250,000 restoring the county's ancient woods and wildlife habitats.
Cumbria Wildlife Trust has been given £130,000 to encourage the growth of native juniper conifers.
The money is made from the government's Landfill Tax Credit, which charges polluters for every tonne of rubbish they bury in the ground.
Wren then distributes the money to green projects.
Peter Lowe, of the Woodland Trust, said: "Ancient woodland, the UK's richest habitat for wildlife, covers only 2% of the UK which is why it is vital that we begin to restore these areas that have been planted with non-native conifers."
Michelle Waller, of Cumbria Wildlife Trust, said the money would be spent on tree-planting projects.
She said: "Juniper can live for up to 200 years, but with the majority of Cumbria's juniper originating from the 17th to 19th centuries, (it) is nearing the end of its natural lifespan."
Related Internet Links
The BBC is not responsible for the content of external sites.