Whitehaven stop for luxury cruise liner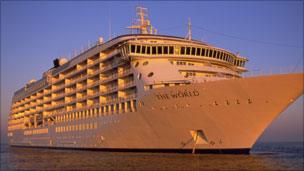 There are hopes passengers on one of the most exclusive cruise liners in the world will boost the economy of a Cumbrian town.
Luxury liner The World has dropped anchor in Whitehaven on a two-day stay.
Passengers, who live on board for much of the year, paying a minimum of £500,000 for a suite, have been given an official welcome.
Special events have been laid on in the town to entertain them before they tour Lake District beauty spots.
The liner constantly sails the globe and is the world's only private, sea-faring residential community.
Its passengers and captain choose where it stops and what they do ashore.
Ian Stephens, chief executive of Cumbria Tourism, said: "This is without doubt the world's most luxurious liner.
"It's also a very highly visible result of all the work being done by ourselves and partners to put Cumbria on the map in the cruise world.
"We really hope businesses in the area benefit as a result."
Related Internet Links
The BBC is not responsible for the content of external sites.